FARM Animal Care Version 4.0 Recommended Standards Open Commenting Period
The FARM Animal Care Program standards are revised every three years to reflect the most current science and best management practices within the dairy industry. The current standards, rationale, accountability measures and public comments received from the period of Monday, February 25th, 2019 to Sunday, March 31st, 2019 have been reviewed by the FARM Technical Writing Group, National Milk Producers Federation Animal Health and Well-Being Committee and the National Milk Producers Federation Board of Directors. 
Public comments were summarized into broader categories as outlined in the document below. Decisions regarding the feedback received from the public comment period are included in the provided document.  For any topic commented upon but not directly addressed in the document, it can be assumed that no change in the standard was made.
A summary of comments made, by dairy industry stakeholder type, related to topic areas are provided in the table below.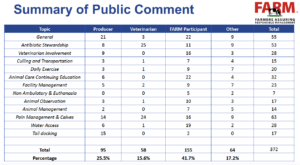 Public Comment Feedback Summary
Download Public Comment Feedback Summary
For a full list of FARM Animal Care Version 4.0 standards, please visit the FARM Animal Care Version 4.0 Page.