The FARM Farmer Advisory Council ...
serves as a unified voice of the dairy producer community by aiding in providing assurances to that community that the FARM program standards are established with the best interest of the dairy community in mind and for the benefit of the entire dairy community as well as inspiring confidence in dairy customer and consumers of dairy farm practices.
National Dairy FARM Program participants, industry stakeholders and fellow dairy producers may nominate farmers to serve on the council. A maximum of three dairy producers can be nominated from each FARM Program participant. If more than three nominations are received, the participating organization will review nominations and select three individuals for consideration.
Council member nominations will be reviewed and selected be a committee of FARM participants and evaluators identified by FARM Program staff. Committee members are advised to select members who represent the dairy industry
The council is made up of no more than 20 nominated dairy producers. Membership selection is designed to represent the entire industry; geographically, demographically and production methods. National Milk Producers Federation's (NMPF) Young Cooperative's chair couple maintains two seats on the council in addition to the industry nominated 20 individuals. The Young Cooperator position cannot be chair due to the annual rotation of that position.
The Chairperson will serve a maximum of four years on council serving two, two-year terms. The remaining council members will serve for one, three-year term.
Council Input Structure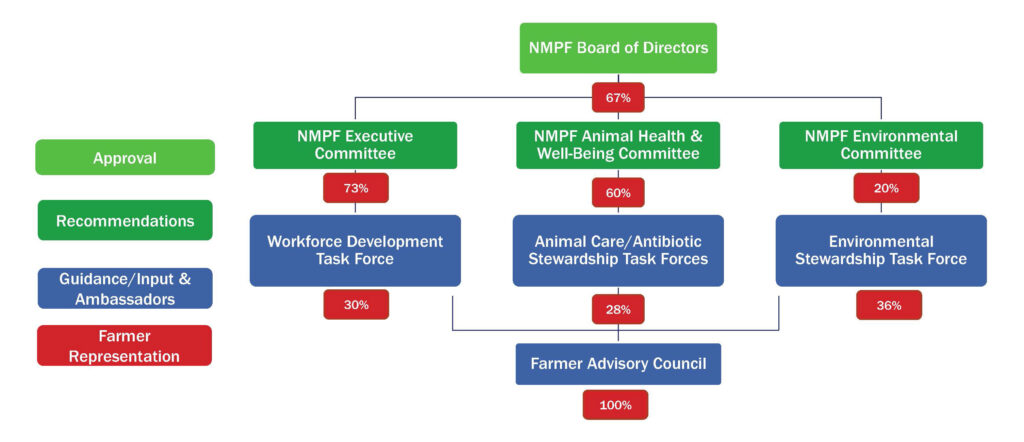 Council Members
 
Name
Coop
State
Nate Chittenden
Chairperson
NY
Kristipher Scheider
Vice-Chair
WI
Jim Biddle
PA
Jeremy Brown
NY
Leon Corse

CROPP/Organic Valley

VT
Dan DeGroot
WA
Stuart Hall
CA
Jennifer Leech
VA
Sandy Larson
WI
Duane Laveau
MN
Deb Reinhart
WI
Mike Prince
OR
Courtney Campbell
FL
Chris Weaver
OH
Jennifer Millican
AZ