Just north of Martinsburg, Pennsylvania – population 1,883 – is a smaller community of "ladies" who make their home at the award-winning Dry Creek Farm, a 230-cow dairy owned by Doug and Veronica Smith. Since 1991, the couple and their children Caroline Zimmerman and Brandon Smith have proudly continued the legacy of the multi-generational family farm –  taking excellent care of their cows and providing safe, wholesome milk for dairy-loving consumers. In fact, Dry Creek Farm was named the 2018 winner of the American Dairy Association North East's Dairying for Tomorrow award for animal care. Hear from Doug, who details the farm's history and the family's commitment to happy, healthy cows.
Tell us about Dry Creek Farm.
Currently worked by third and fourth generation family, Dry Creek Farm started in 1937 with just seven cows. Today, we've grown to a 230-cow dairy, farming 400 acres and raising our own replacements. Farming as a family is very rewarding because we are all working together with the same goals in mind to create better farming practices for future generations.
What draws you to this profession?
Since around the age of 10, I've loved farm work. The entire family truly loves caring for the cows and producing a wholesome healthy product for consumers. I've never known anything different and can't image doing anything quite as rewarding. In particular, I enjoy animal care and crop management.
How is dairy farming today different from when you first started farming?
The constant advancements in technology have decreased the physical demand of farming. However, the change in the market has created a need for greater business sense to manage margins and remain successful so our family can continue doing what it loves.
Winning the Dairying for Tomorrow award for animal care speaks to your commitment to the highest standards. Tell us about your commitment to cow care.
It's at the forefront here at Dry Creek Farm. We continually look over the animals to ensure they're happy and healthy, and make sure that everything on the farm is running smoothly. Also, over the last five years, we've made a number of improvements including incorporating new calf raising standard operating procedures, building a new free stall barn with cow brushes, and working closely with our veterinarian to improve other efforts for cow comfort.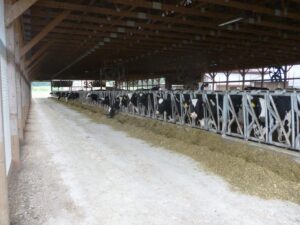 What do you wish consumers knew about dairy farming?
Dairy farming is being a good steward of animals and the land to ensure future generations have access to wholesome and nutritious food.
If your cows could talk, what would they say about you?
That we're constantly on the move to make sure they're comfortable and happy.
Where does your milk go?
Dairy Farmers of America (DFA).
What is your favorite dairy product?
Ice cream, no question.
To learn more about Dry Creek Farm, follow them on Facebook.